Last Updated on
Effleurage is the means by which you apply oil to the body. This stroke is the perfect method to begin a massage as it allows the other person to become familiar with your hands. It can also be used as a long stroke on the legs and as a circular motion on the larger areas such as the back. In this instance, effleurage lends itself to the use of gliding circles over the whole area.
Effleurage is a gentle, gliding stroke and as such can be considered one of the most important relaxation techniques in massage. The sliding effect of this method smooths and soothes, and can also be used as a connecting stroke to fill in between the different movements or types of strokes that will be used during the massage sequence.
Use effleurage strokes to begin the massage; a good way to start is with a light sliding motion in the direction of the heart. You must allow the recipient's muscles to fit snugly in your hand.Apply medium pressure with your whole hand, gliding smoothly along the length of the muscle. This stroke will assist in spreading the oil over the skin and will initiate relaxation.
Once the muscles are sufficiently relaxed you can use slightly deeper sliding, or slightly increased pressure of the hands over the same area. Remember to use bodyweight to apply pressure, and keep your bock and arms relatively straight to avoid backache and tiring too quickly.
The long, gliding stroke of effleurage is fluid in movement, much like a gentle flow of water over rocks; it increases the familiarity between your hands and the recipient's body, promoting the relationship of trust that you wish to establish during massage. This technique is also the manner in which you slide your hands off the body after a massage routine almost as though to leave behind a memory of the strokes.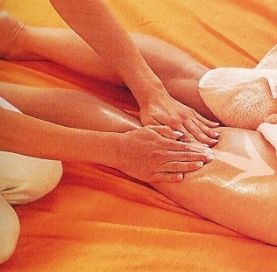 Make sure your massage oils are warmed for client comfort and the massage table is luxuriously soft. If the weather is cooler , make sure both the room and massage table are warm for client comfort.To warm the massage table, you can use a fleecy electric warming pad to give both a soft comfy table and gentle relaxing warming heat, we have reviewed the most popular massage table warming pads here.
Beautiful massage sheets and towels specifically chosen to compliment your massage space are important as they set the tone for an enjoyable luxurious and relaxing experience for your client. There are many choices available and why not have a variety of color choices to suit your mood as you work…